From February to May 2022, an AMarkets partner attracted 199 clients and earned almost $90,000 of total revenue. He used a well-thought-out strategy that provided him with three income streams at once. His case is an excellent example of how you can make the most of the available opportunities and generate huge profits.

Getting acquainted with an AMarkets partner
Efim is a 26-year-old trader from Yakutia. In 2021 he became the best trader among 256 thousand traders in Russia and the CIS, according to Open FX.
Being a successful trader, Efim decided not to limit himself to independent trading only. He significantly enhanced his approach, which now allows him to earn far more.

Partner's earnings model
Efim adheres to a system that generates income from three different sources. Being a successful trader, he created a strategy in the AMarkets copy trading service, and being also the company's partner, he started to attract clients looking for passive income opportunities.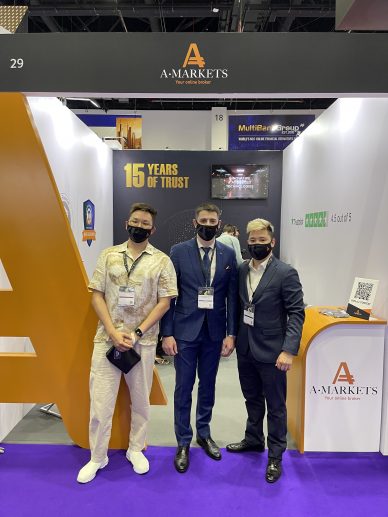 The AMarkets copy trading service allows successful traders to create strategies and attract investors to follow these strategies. The trader opens positions and trades as usual but makes more profit because he earns an additional commission from investors who follow his strategy and copy his signals.
Let's take a closer look at each of Efim's streams of income.
№
Stream of income
Description
1
Independent trading

The trader independently opens and closes positions in the financial markets and, if his market projections are correct, makes a profit.

2
Strategy in a copy trading service

The trader allows investors to copy his trading signals and earns two types of commission fees:

1. Performance fee – a trader receives up to 50% of investors' profit.

2. Turnover fee – depending on the trading volume copied by investors within the trader's strategy.

3
Affiliate reward

The partner receives a commision of up to $15 per lot based on the referred clients' trading turnover. The higher trading volumes the partner's clients generate, the bigger the affiliate reward he receives.

Learn more about the "Agent" (RevShare) affiliate program terms and conditions.
Efim used all the ways of generating income described above, which allowed him to achieve such an outstanding financial result.

How much and how did the partner earn?
In four months – from February to May 2022 – the partner attracted 199 clients to the company and earned a total revenue of $88,724. Most of these clients invested in Efim's trading strategy, which allowed him to receive commission both in the copy trading service and as a partner within the Agent affiliate program.
The partner's earnings are distributed as follows:
Performance fee (copy trading commission) – $56,124.
Turnover fee (copy trading commission) – $7,842.
Profit from independent trading – $910.
Affiliate reward — $23,848.
As we can see, Efim earns an average of $22,181 per month!
With an increase in the number of investors attracted to the trader's strategy in the copy trading service through the "Agent" affiliate program, the partner's earnings can increase several times!
Earlier, we shared the success story of another AMarkets partner who earned $400,000 using a similar earnings scheme.
AMarkets partners consistently prove that there are a lot of different ways to earn money in the financial markets. If you are an expert in trading, you can follow Efim's approach and use his experience to boost your income dramatically. If you know how to drive quality traffic, study other cases of successful partners on the AMarkets partner portal and maximize your profit potential.
For our part, we are always ready to provide each AMarkets partner with personalized marketing support, ready-made creatives, banners and landing pages, and answer any of your questions to make our cooperation as effective and fruitful as possible.