Attract clients to AMarkets and earn a solid passive income from their trading activity.
Our remuneration rates are among the highest in the industry!
Remuneration rates in USD per lot

Payouts are made in US dollars on a daily basis. The Agent can immediately withdraw his remuneration without any restrictions and limitations.   
By attracting investors to our PAMM-service, Agents can receive additional compensation in the form of a part of the manager's commissions from profitable trades.
Once a month, AMarkets compensates all payment systems commission, that's why our affiliates receive 100% of their income.
Agents can build their own partner network of second- and third-level partners and receive income from their activity.  
Profit sharing scheme within the multilevel system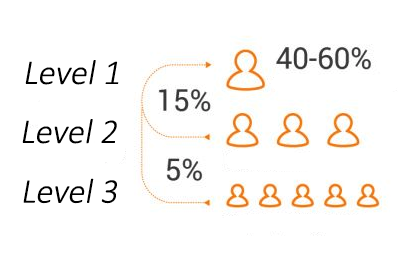 We've been making regular commission payouts to our partners from 2007. We have already paid more than $15 000 000 in remuneration. Today, the company cooperates with over 3000 partners around the world!
How much you can earn?
Let's take a simple example:
Imagine, you invited 10 clients with a total capital of $10,000. Based on our statistics, such amount of money can generate 100 lots every month.
With the standard remuneration rate you will be getting $10 per 1 traded lot from clients with «FIXED» accounts, so you'll be earning $1000 every month.
Every AMarkets' Partner makes twice as much money!

According to statistics, the average profit of our partners is 5-10% of the clients' deposits every month.
AMarkets provides other profit-making opportunities. Sign up now and find out how to start earning and level up your income!
Please note that to withdraw remuneration and start receiving daily payouts, the Agent has to attract at least 3 active clients. Until that moment, the Agent's remuneration will be reserved. 
AMarkets does not offer its services to the residents of certain jurisdictions such as: United States of America, Algeria, Armenia, Latvia, Lithuania, Bangladesh, Benin, Botswana, Burkina Faso, Burundi, Cabo Verde, Cambodia, Cameroon, Chad, Comoros, Congo, Democratic Republic of the Congo, Republic of Cote d'Ivoire, Ethiopia, Gabon, Gambia, Ghana, Grenada, Guinea, Guinea-Bissau, Guyana, Haiti, Honduras, India, Iraq, Ireland, Jamaica, Japan, Kiribati, Kosovo, Laos, Lebanon, Lesotho, Liberia, Libya, Liechtenstein, Madagascar, Malawi, Maldives, Mauritania, Mongolia, Mozambique, Myanmar (Burma), Namibia, Nauru, Nepal, New Zealand, Nicaragua, Niger, North Korea, Pakistan, Paraguay, Rwanda, Senegal, Sierra Leone, Somalia, North Korea, South Sudan, Sudan, Suriname, Swaziland, Syria, Tunisia, Zambia.