AMarkets is an international online broker that has an impeccable reputation.
Since 2007, the company has been providing high-quality services to traders and investors, occupying leading positions in the industry in terms of clients' trading success.
Benefits of cooperation with AMarkets
High commission rates.
Two most popular cooperation models.
Effective marketing tools to attract target clients.
Efficient 24/7 support.
Full compensation of transaction fees charged by payment systems – a partner receives 100% of income!
Regular bonuses and promotions for partners and their clients.
Unlimited earning opportunities in the finance vertical
Become an AMarkets partner
The company offers two cooperation models: "Agent" (Revenue Share) or "Webmaster" (CPA).
After you pick a suitable affiliate model, register on the website to get access to the Partner account and a wide range of tools:
marketing tools to attract clients, including referral links, banners, widgets and video content;
analytics and reports;
additional tools to improve efficiency and build a successful affiliate business.
Who are AMarkets' clients?
Independent traders who conduct trading transactions in the financial markets using a trading platform.
Traders using algorithmic trading systems (Expert advisors/trading robots).
Investors who copy trades of experienced traders in the Copy trading service.
Why clients choose AMarkets
More than 550 trading instruments: currency pairs, metals, commodities, indices, stocks, bonds and cryptocurrencies.
4 types of trading accounts, including a cryptocurrency account.
Popular trading platforms: MetaTrader 4 and MetaTrader 5.
Reliable and lightning-fast execution — as fast as 0.03 sec.
Low floating or fixed spread, depending on the account type.
Compensation of deposit fees, charged by payment systems.
Prompt 24/7 customer support.
Daily market analysis and up-to-date trading ideas.
Individual trading plan and personalized approach to every client.
Bonuses and promotions for partners and their clients.
Large database of free advisors.
Autochartist: an automated market analysis service which identifies chart patterns and predicts the trend, sending signals to buy or sell.
Trade analyzer: evaluates the trader's strategy and suggests recommendations to improve it.
Sentiment indicator: analyzes the buyer-seller ratio and signals the market sentiment, which helps traders make the right trading decisions at a specific time.
Modern Copy trading service – an investment service that allows you to earn money in the financial markets, following the strategies of experienced traders.
Mobile trading app for iOS and Android.
Additional information and other educational materials are available in the Knowledge base on our Partner portal.

CLIENT PROFILES
Target clients
Gender: male
Age range: 30-50 years old
Income level: 2,000 USD and higher
Occupation: Middle-level/top-level managers and business owners
Industry: banking, insurance, and financial organizations, production, construction.
Interests:
expensive cars, elite real estate, luxury products (jewelry, watches, suits, business accessories),
sport (tennis, golf, water sports, downhill skiing),
personal and professional development (business meetings, major field-related exhibitions, conferences, workshops and seminars),
news and analysis of current events,
financial markets and investments.
Average clients
Gender: male, female
Age range: 20-40 years old
Income level: 1,000 USD and higher
Occupation: middle managers, freelancers, entrepreneurs
Industry: banks, insurance and investment companies, advertising agencies, beauty and health, tourism, trade and production.
Interests:
various types of entertainment
social networks, dating sites,
online training courses,
various sports and a healthy lifestyle,
additional sources of income.
Sources of potential clients
Niche sites dedicated to trading/investment.
Special interest websites: automobiles, construction, real estate, education and advanced training, dating sites, tourism, etc.
Sources for related subjects: sports betting, poker, real estate investment and start-ups.
Job search and earning websites, networking groups, business communities.
Contextual and teaser ads.
News and analysis sites.
Social networks.
Blogs – posting articles.
Independent search for contacts on the Internet.
Marketing tools
AMarkets offers its partners a wide range of effective tools to bring in target clients:
1. You can always find the latest landing pages and banners in your Partner Area. If you need more marketing materials or have specific content needs for your advertising campaigns, you can reach out to the affiliate programs department to discuss creating customized content.
2. Running joint promotions: we can provide gift cards to your audience, allowing them to test our products and create initial interest in trading in financial markets. Here's an example of a landing page and the terms for activating the gift card.
3. Hosting trader contests: we can set up trading competitions for your clients on demo or live accounts to boost trading activity and increase your customer base. Prizes could range from gift cards to a cash prize fund, which can be discussed and customized for each partner individually. We've designed a user-friendly contest interface that allows us to automate the entire contest process and provides real-time updates on participants' performance.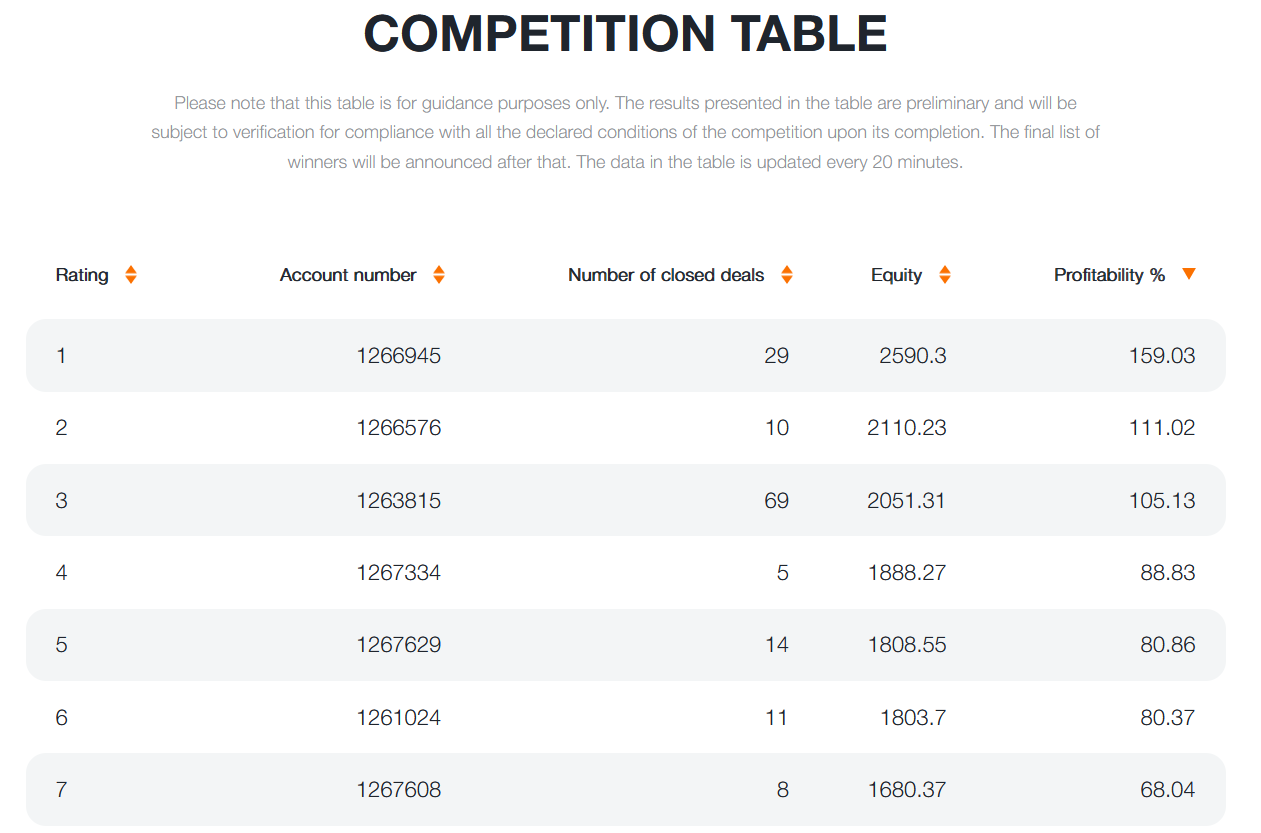 4. Partner rebate service: you can automatically allocate a portion of your affiliate revenue within the 'Agent' cooperation model to benefit your clients using a special functionality available in your Partner Area.
5. To enhance your collaboration with AMarkets and help you achieve the best results, our marketing specialists can audit your online resources and offer valuable advice and recommendations on developing them, scaling your business, and optimizing monetization within affiliate programs.
Additional information and other educational materials are available on our Partner portal. You can also read stories of our successful partners.
Got questions? Feel free to contact us through any of these channels:
Become an AMarkets partner and start earning with a global, award-winning Broker!