Dear Partners!
We are happy announce that in honor of our 10 year anniversary, we are raising Partner's remuneration rates, so that you can earn even more with AMarkets!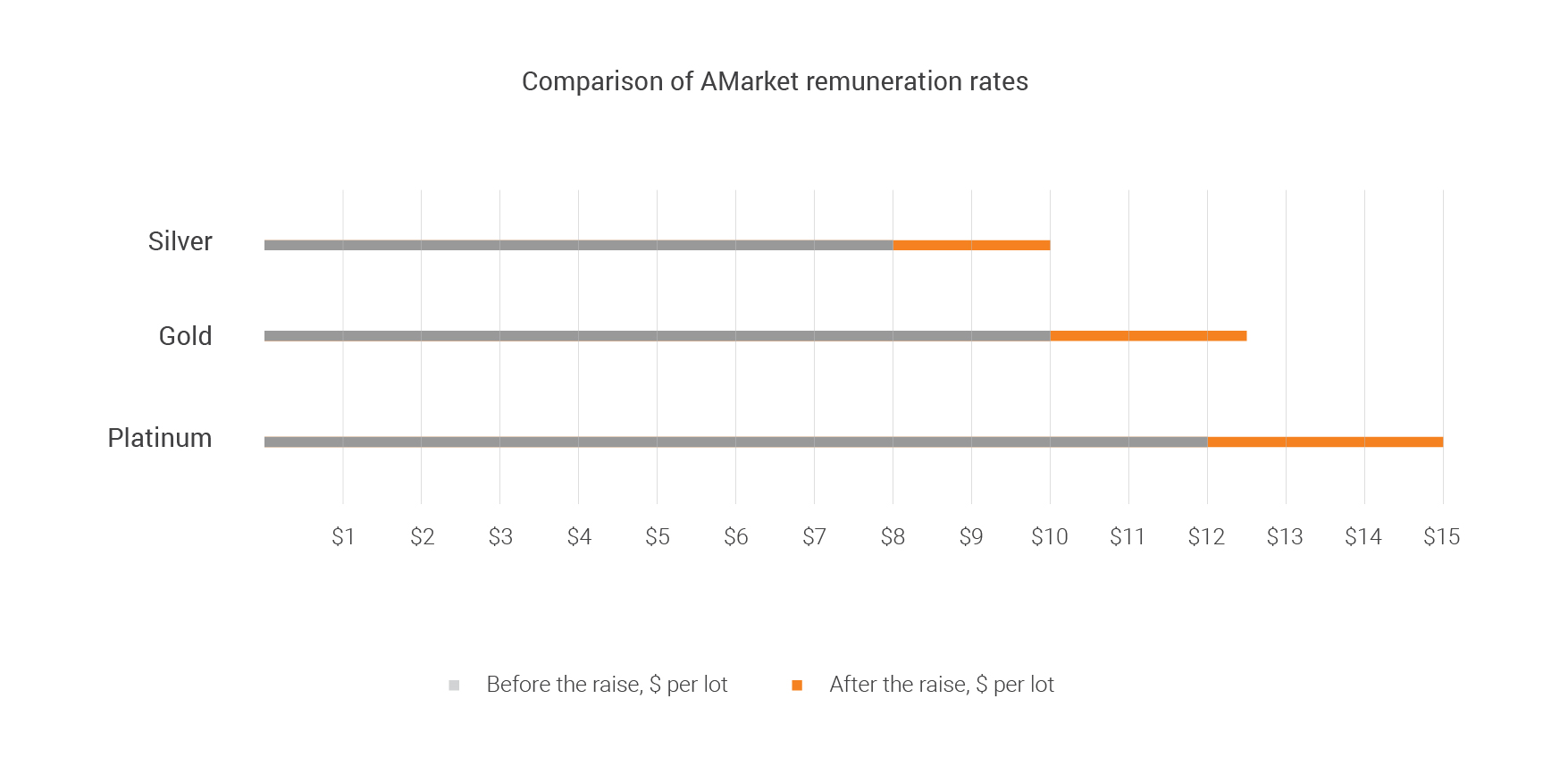 There have been a lot of questions about why we have done this and we want to answer your questions in this article, as well as explain why AMarket's Partnership Program is the most profitable in the industry!
About AMarkets Partnership Program
Forex Partner programs are one of the most promising ways to earn today. For those want risk free earnings on financial markets, AMarkets' Partner program allows for absolutely every Partner to earn income and is very simple to use.

AMarkets offers help with the products and services of the company to everyone who wants to attract target clients to earn on financial markets and generously divides its income across its two earning models:
«Agent »

– classic earning model based on the trading turnover of the attracted client, known by most Partners as the "Introducing Broker" or simply "IB."
Under this earning model you receive up to 60% of the company's income for each closed transaction for traders and investors, regardless of their success. This could become a stable and guaranteed income for you across the whole term of their work.
According to statistics, our Partners earn 5-10% from the client's deposit each month!

In addition, this model is multi-tiered and allows you to earn on your second tier Partners (15% of the company's revenue) and also the third (5% of the company's revenue) levels. Thus, you can attract other people who will work for you.
2. «Webmaster» (CPA – payment for results) – an advantageous offer for everyone who is on the Internet. Receive immediate high lump sum payments for two client actions: for high-quality registration (up to 10$ per lead) and for client account top-up (making the first transaction), with the payment dependent on the amount the attracted client deposits – up to 500 USD for each client! (Up to100% of the client's total deposit during the verification period!).
An important difference between us and our competitors is thatyou will receive remuneration for all client deposits during the verification period, not just the first deposit!
Comparison of remuneration rates in the brokerage industry
The main reasons Partners switch to us from other companies is because of low remuneration rates and misled expectations based on false promises to provide super-high rates that are not backed by the realities of the brokerage business.
Unfortunately, there are a lot of unscrupulous brokers who promise super-high income to their partners, as well as their customers, but in the end they do not fulfill their obligations.
Most other brokers impose strict restrictions on the income of their partners:

minimal number of points(MTP),

overstated requirements for the minimum time in the transaction (MTT),

obligatory presence of a certain financial result of the transaction,

limits on total payment per client,

Other tricks that take a significant part of the partner's income.
AMarkets' remuneration rates some of the highest in the industry, however, they are fully backed by a successful business model, which has allowed the company to grow and prosper for more 10 years!

The company does not have a large network of its own representative offices and branches, which costs other brokers a significant part of the income. We prefer to follow a different path and allow our partners to develop, so that they themselves can open their own offices and obtain a higher level of income through high remuneration rates and additional motivation from AMarkets.

At the core of AMarkets' business model is a low-margin (discounter) brokerage model, in which most of the company's earnings are given to the Partner. Thus, our Partners have the opportunity to create a sustainable business, hire the best employees, carry out high-quality marketing campaigns, rent the necessary offices, use modern customer service / maintenance technologies, and even transfer part of the income to their clients while receiving a consistently high income for themselves.


For every $3 in income for AMarkets, our Partners receive $2!
We have been paying our Partners for already more than 10 years and during this time we've paid out more than $12,000,000! Today the company works with more than 3,000 Partners around the world.

A few more advantages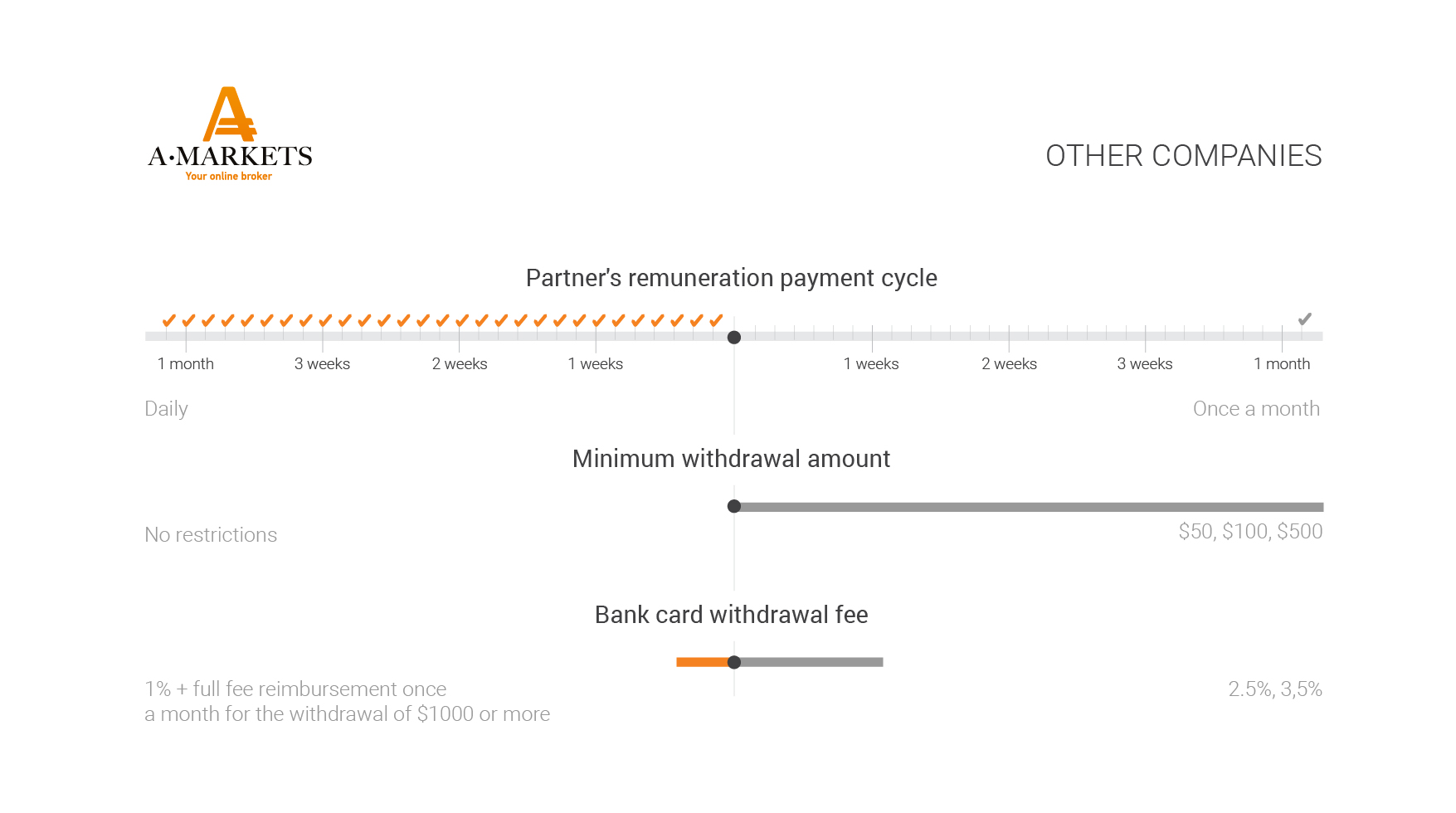 AMarkets pays Partner remuneration every day , at a time when the majority of the brokerage industry pays only once per month. We understand that remuneration is not a salary and therefore we don't place any limits on it! You have the ability to constantly receive payments depending on the results of your work!
You can withdraw any sum , at anytime you need.
We provide a wide range of payment systems so that you can use the most convenient for you.Please note that AMarkets fully compensates the commission for withdrawal of their Partners' funds, so they can receive 100% of the income., so they can receive 100% of the income.. (With remuneration from $ 1,000)
Conclusion
AMarkets builds long term relationships with its Partners and we have generously shared our income for more than 10 years! In addition to high remuneration rates, we encourage our partners to be extra motivated from their work and also conduct contests, that provide partners with additional benefits in the form of cash or valuable prizes.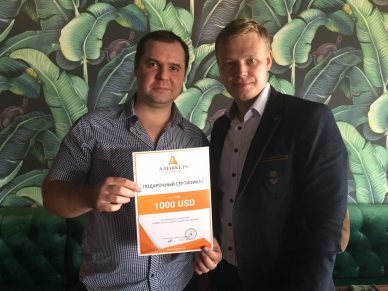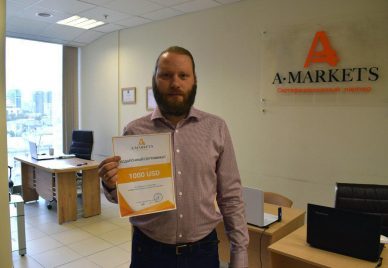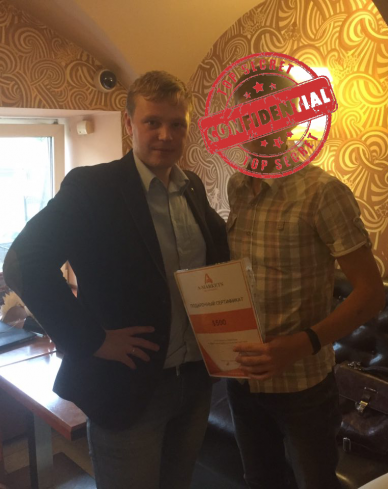 Presenting additional remuneration to our Partners for great results and loyalty to the company
We thank all of our active Partners for their cooperation and we welcome every else to come and join AMarket's team of Partners!