Dear partners,
We are pleased to inform you that a conversion report is now available in your AMarkets Partner area.
But wait, there's more! All AMarkets' partners can now include additional data into the referral link using a built-in referral link generator.
What are the benefits of using a Generator?
You will be able to see the exact source of registrations and detailed statistics for each campaign. This will increase the efficiency of your work, allow you to optimize your marketing budget and earn more!
P.S. If you are new to affiliate programs, be sure to pay attention to UTM parameters.

UTM tags is an amazing tool that helps you evaluate the effectiveness of any marketing campaign and track your advertising budget.

UTM tags help you understand which post or offer worked out and how well. We recommend that you start using professional tools from AMarkets: UTM and the Referral link generator to track the performance of your marketing campaigns and better understand your customer affiliate activity.
How to use the Referral Link Generator: step-by-step instructions
Go to the "Tools" section of your AMarkets Partner Area and click "Links".
Select one of the landing pages. Consult with your affiliate manager and discuss which landing page is best suited for your resource or advertising campaign.

Copy the link that already has your individual affiliate code embedded in it.
Go to "Generator of referral links" and get the best UTM tags for each advertising campaign.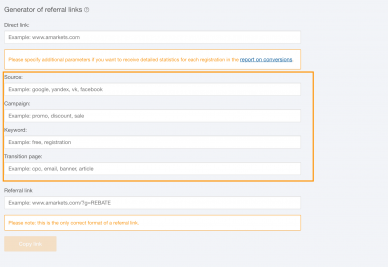 Track the lead sources for all your campaigns and affiliate offers in your Partner Area. This is a great basis for creating a successful and cost-effective advertising campaign!
Join the AMarkets affiliate program for a long-term, mutually beneficial cooperation. We offer some of the best payout models – CPA and RevShare: transparent payment scheme, ready-made creatives, the assistance of an affiliate manager.
Join AMarkets and earn with a reliable global broker that has been meeting its obligations to partners and their clients since 2007.