September 2017, AMarkets announced a new product, Mirror Trader, a copy trading service.
The platform is provided by our long-time friends, Tradency, an Israeli company, which previously granted our clients access to the automated trading service, Robox. Now, the clients have a choice to either be in charge of the process of copying trades themselves, maintaining full control of the trading or entrust it to trading advisors, which automatically select suitable offers as ready-made portfolios based on the basic settings and reactions to the changes on the market, relying on a complex artificial intelligence system.
For the benefit of the partners who joined us not so long ago, we would like to make a quick reference to the history of the company, when in 2012, we had successfully launched Mirror Trader, to abandon it several years later due to technical reasons. By then, many partners, owing to this product had not only grown, but also earned quite well, hence the disappointment upon finding out that we could no longer work with it. Because of this, we we did not stop monitoring the development of the project, and after being sure that the glitches were successfully fixed, we decided to resume working with it and it paid off.
Our longtime partners took to the news with great enthusiasm and resumed their former publications about Mirror Trader, affording them not only the return of some of their former clients, but also attraction of new ones, who had no prior experience with the service.
Today, we are seeing a considerable growth in the base of active clients, which specifically come through the company's partners. This is easy to explain, since the process of copying signals is very simple and does not require tremendous amounts of time and effort, as opposed to independent trading on the financial markets; therefore, this offer is perfect for those just starting out. This is especially true if you do not have a target audience, as it would be easier to sell a ready-made, and simple solution to it, for earning from the financial markets, instead of making them into professional traders.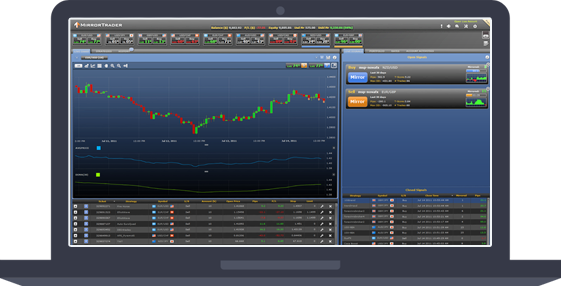 Advantages of Mirror Trader:
Convenient and easy-to-understand platform functionality.
Large number of signal providers to choose from.
Several modes of copying trades: manual, automatic, and semi-automatic.
24 hour automatic copying of signals, even when the computer is off.
Full control of workflow and owner's equity.
No second party intervention or managers.
Flexible risk management system.
Comprehensive reports and clear statistics.
100% of the profits goes to the client!
We believe that every user will get something good from working with the platform, and surely one can say that this product will not leave anyone indifferent since the professionals of the industry spent years of hard labour on it, to cater for each user. This is the reason behind the worldwide success of Mirror Trader.
Reward of Partners
The remuneration of the partners of AMarkets is exactly the same size as the earnings of clients who trade independently on "Direct" accounts:
Agents receive 6 to 9 USD for each standard trade Lot turnover, depending on the current rate of remuneration.
Everything remains unchanged for Web-Masters: payouts from 5 USD for qualified registration, and up to 500 USD for every replenishment of client's active account.
Those just getting acquainted with the AMarkets' partnership program, terms and earning opportunities can be found in the corresponding section for more details.
Top 5 strategies to earn from

Follow AMarkets' news, as from it, you can find reviews on the best strategies for earning from Mirror Trader.
In the last review, we saw the following leading strategies in profitability for September 2017:
Jupiter (USD / CAD) – 3795 points
TidalWave (GBP / JPY) – 3549 points
TangForex (GBP / JPY) – 2209 points
API1TBX (USD / NOK) – 2050 points
HotSpot (GBP / USD) – 1989 points
You can find detailed results of these strategies on the company's website.
LEARN MORE ABOUT MIRROR TRADER
We are sure that those who understand the simple maths of the market will appreciate such an outstanding result, since profit in monetary terms can amount to thousands of US dollars, with a fairly moderate turnover!
Final words about Mirror Trader
This product, without a doubt, deserves attention from each partner, as it is an excellent product for promoting and attracting customers through any marketing channel. For this we have prepared brilliant and state-of-the art landing pages and banners which are already available in the partner's private office.
We strongly recommend that you include this service in your advertising campaigns and without waiting long, you will see results angling toward positive conversion of current statistics of registered users, and later activated clients.
Happy earning with AMarkets!