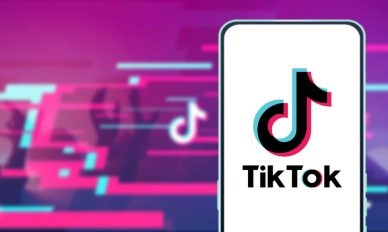 How to use TikTok for Forex promotion
TikTok has recently become one of the world's most popular social media platforms. Since its launch in 2016, it now has over 1 billion users, and the brand itself estimates the same 1 billion being active per month. The amount of exposure is truly enormous. More and more business owners are now starting to see that TikTok can offer ample opportunities to promote their brands. The platform is available in 154 countries and uses 74 different languages. In terms of numbers, TikTok is most popular in the USA, India, China, Indonesia, Thailand, Vietnam, and Japan. And in 2022, the platform is new enough to get in early and create content for your brand, but also large enough so that you can attract large audiences right away.
At a glance, it might seem like TikTok is simply a platform for dancing challenges, pranks and lip-sync videos. And while it's true that TikTok's main goal is entertainment and it's more appealing to the younger generation, the situation is changing.
If you're new to the platform, It can feel overwhelming at first. But no worries. Consider this article your guide on how to get your TikTok account up and running.
Create a winning TikTok strategy
Even if you are already Instagram and Facebook savvy, it's important to remember that TikTok is a different platform, so it requires a specific game plan. And building that game plan starts with setting your goal.
When creating a TikTok account for <a href="how-to-become-a-forex-affiliate-and-earn-with-the-best-trading-affiliate-program-2022/">Forex affiliate</a> business purposes, you need to decide what you want to get out of the platform. It's good to have an initial direction you want to move in. Here are some ideas for 'goals' that will help lay the foundation for your TikTok Forex business account:
Grow Brand Awareness
Educate Target Audience
Target Future Clients or Customers
Increase Sales
Increase Clicks to Website
Increase Your Audience Reach
Get to know TikTok
Now that you've determined your goals, it's time to get to know the platform inside and out. Get familiar with TikTok. Spend a few hours browsing through the videos on the For You page. Learn some basics for creating TikTok videos, play around with the editing features, filters, and effects.
Learn how the TikTok algorithm works
The TikTok algorithm is a recommendation system that determines which videos will appear on your For You page. It's constantly evolving, but you gotta start somewhere.
According to TikTok: "The system recommends content by ranking videos based on a combination of factors — starting from interests you express as a new user and adjusting for things you indicate you're not interested in, too."
So when you post a new Forex video, it will be shown to a small group of users at first. If this group shows interest and engages, the platform will show it to more users with similar content preferences. When the feedback is positive, it increases your reach and your video can potentially become viral.
Learn about the key players
Many TikTok stars have managed to channel their viral success not only into lucrative sponsorships but also into film, TV and various business ventures. Your industry or niche has its own power players. Here are some star analysts who are already successfully using the TikTok format to promote their Forex business:
@nicholaslasala
(157.5K followers, 767.4K likes)
@tradertoks
(378.8K followers, 2.8M likes)
@tick.stock
(353K followers, 2.1M likes)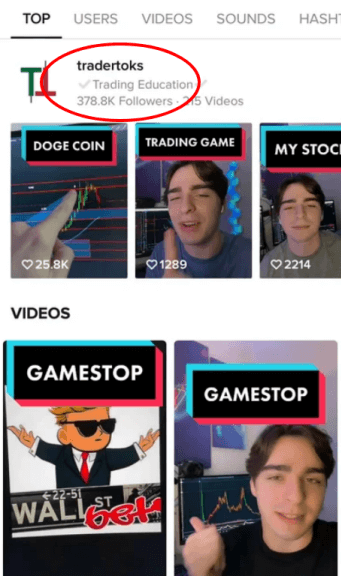 These guys create short videos devoted to Forex, trading psychology, technical analysis, stocks, and etc. They share their opinion on market news and events, explain trading basics to newbies, and teach Forex. Of course, these guys fall into the category of your "competition" here on the app, but you can use their content as sources of inspiration or information. So, do keep an eye on those rising stars.
TikTok Hashtags
Simply put, hashtags are a way of categorizing content to make it easy for other users to find. TikTok users add hashtags to video captions, which allows them to label their content. The hashtags are clickable: when you tap a hashtag, you'll be taken to a search page with other content that also is labeled with that hashtag.
If you tap Discover at the bottom of the screen, you will see previews of the videos with trending hashtags or use the search bar at the top of the screen. Search for "Forex" to get a list of Forex-related hashtags. Click on any of them to find out what other TikTokers post.
While trending hashtags are perfect for reaching a broader audience, niche-related hashtags allow you to share your content with a specific category of users. Try adding both types of TikTok hashtags to get the most out of it.
How to Go Viral on TikTok
How to make TikTok videos with viral potential? Here are some useful tips for ambitious TikTokers.
Grab people's attention quickly before they swipe past your Forex video to watch other content. Set the tone and topic of the video or show some exciting action within the first few seconds.
Keep your video as short as possible. Keep your clips short and to the point. The shorter the video, the more chances it has to be watched to the end.
Add trendy music. Include trending music in your videos. TikTok users feed off the trends, so it's more likely that you'll reach a bigger audience if you use current trending songs. Layer a trending song quietly in the background.
*Pro-Tip* If you are doing a short educational video and you don't want any music in the background, just add a song and set that song to 0 volume.
Record your own audio. By using a voiceover on your video, you're giving the users more information, helping them understand what your video is about. For example, you can comment on Forex price charts, explaining chart patterns.
Tell a story. You can share your success story and tell your audience how you earned money on Forex. Keep the plot flowing quickly and make your story interesting.
Offer advice. If you are an expert in your field, share your knowledge and expertise with those willing to learn. Quick bullet point videos work great, with text over the screen guiding the user through the mini-lesson.
Leave some questions unanswered. To get comments, which can help you go viral on TikTok, think of an obvious question people will have after watching your video and DON'T ANSWER IT. This will lead to a ton of comments, engaging your audience.
Summing up
TikTok is a fantastic opportunity to boost your Forex business. If your content is engageable, you can easily get hundreds of thousands of views. The best thing is that your TikTok content can be freely shared across other social media platforms like Facebook, Instagram, Telegram, and YouTube, which means you can use TikTok as a preview platform that will funnel your potential clients to your other business accounts. As you can see, this next-generation platform can be a great tool for Forex promotion and acquiring new followers.