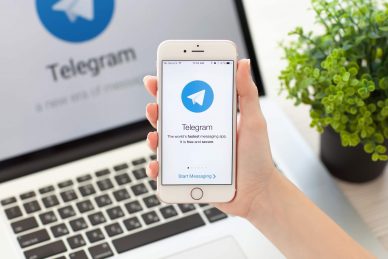 Telegram communities have become one of the most effective channels to attract target clients these days. And you should definitely consider this great promotional tool if you are serious about your cooperation with AMarkets and earning with affiliate programs. The most successful AMarkets partners have their own Telegram channels devoted to trading and investing.
One of the most popular messaging apps began its active growth in 2021. In 2022, Telegram became one of the top-5 downloaded apps worldwide. As of November 2022, Telegram had 700 million monthly active users worldwide.
Let's throw in some numbers

Telegram user distribution: the largest share of Telegram users is between 25 and 35 years of age, with 61% of men and 39% of women. For 75% of users, Telegram is the main source of information. The number of channels in the "News and media" category increased by 55% in 2022.
About 22.5% of Telegram users are employed in the IT sector, while the finances sector ranks 6th – 4.6%.
How to promote your Telegram channel for free

Proper channel design

Start with the channel name. Choose a name for your channel. It should be distinctive, memorable and reflect the essence of your business. When users come across your channel, they should clearly understand what you're writing about simply by looking at the name of the channel. Don't get carried away – the shorter the name, the easier it is to remember, tag it, and type it in search. When adding a channel description, avoid long reads boasting about how great you are. Try to convey what your channel is about and its value to the user in one sentence.
Content Marketing

A channel with zero posts won't attract any users. Before you start promoting your channel, fill it with interesting publications. Create a content plan for at least 2-3 weeks. Keep in mind that blatant advertising won't work. Don't try to simply fulfill your sales plan and absorb the advertising budget. Always put yourself in the user's shoes. Telegram users prefer entertaining or expert content. You should either create entertaining content or provide valuable knowledge in a form the user understands.
Pack your content into cards. The cards provide a great visual experience, and users are more likely to save them and share them with others.
How to improve the content quality:
Understanding your client's pain points is your top priority.
Your posts should be interesting, engaging and relevant. Track major events and use newsbreaks when creating content.
Use buttons rather than hyperlinks to increase conversions.
Call to action (CTA): encourage your audience to leave a comment or a reaction by tapping an emoji.
If the topic of the post is related to the product you're promoting, end the post with a relevant offer. But don't use this technique in every post.
Collaboration with other channels

Search for channels with a similar topic and target audience. Once you've found one, go to the channel's description, find the contact information of the administrator and shoot them an offer: they place a post about your channel, and you place a post about theirs. Of course, there's a chance that they ask for money, but in most cases, you can negotiate and recommend each other to your followers on a barter basis. This is especially true for small and medium-sized communities, which are just as interested in reaching new audiences as you are.
Traffic from other sources

Be sure to add a link to your Telegram channel when you post on your other social media or websites where you've already established your presents. It can be a trading community on Facebook, your Instagram page, etc. The more connections you make, the better.
Chatbots

A chatbot is a free Telegram tool. You can create a bot that can be used for customer support – send links and answer frequently asked questions, i.e., it will be useful to the user on the one hand and simplify your work with the audience on the other.
If your chatbot is engaging and valuable, users will definitely save and recommend it to their friends, which can help you grow your audience.
Paid promotion of a Telegram channel

Seeding

Simply put, content seeding refers to planting posts across various third-party channels to reach target audience and attract leads. You can search for channels, their traffic statistics, and engagement using specialized services.
Select 6-8 channels to seed your content based on the following criteria:
View to subscriber ratio;
Engagement rate – the amount of interaction (reactions, comments and shares) a piece of content gets compared to the total number of subscribers;
The number of ad posts. The more often the channel posts ads, the lower the conversion rate will be;
Views within 24-48 hours. As a rule, channels post their ads for this time interval;
GEO of channel subscribers;
The channel's Tone of Voice. Make sure that your audience finds the channel's language acceptable.
Placement in catalogs and thematic compilations
You can place your channel in compilations of Telegram channels by theme. This type of advertising is usually paid for. But there is one drawback: such compilations quickly become outdated, so there's a chance that you will find your channel surrounded by dying blogs that have lost popularity. What to do?
Look for compilations containing suitable channels. Do your research – study them, and contact the editors of the channels you are interested in.
Recruiting and buying subscribers

Don't even think about it. Buying subscribers is a waste of money. This way you will attract an irrelevant audience at best, or worse – fake subscribers that will hurt your channel and your metrics. It only makes sense if you need to impress and show the scale of your business. On the other hand, users have become less concerned about the number of subscribers the channel has. They are now more interested in the channel's it gets – the number of likes, reposts and comments.
Telegram Ads: an internal advertising platform

In 2021, Telegram launched Telegram Ads. This tool allows advertisers to place ads (sponsored messages) in third-party channels with 1000+ subscribers. Both public channels and chatbots can be advertised. Sponsored messages are limited to 160 characters and can't contain any images or videos, but they include a CTA button:
Chatbot ads – "View bot."
Ads in a channel – "View channel";
Advertisements for a Telegram post – "View message" or "View post".
Ads are marked as "sponsored" and are displayed at the very bottom of the feed so that users don't miss them. It is important to remember that only internal Telegram links without UTM tags can be used.
Sounds great, but there is one thing. Telegram Ads' entry threshold is high – €2 million. Naturally, most of advertisers can't afford such a huge initial investment. But everything is not so gloomy, and there's a loophole. You can use third-party services for advertising your business in Telegram channels. They allow you to set up an advertising account and promote your channel with a smaller budget for a fee. For example, you can create an ad account with eLama, an online advertising management platform. Once your account is set up, you can top up your wallet with eLama and transfer money to your Telegram Ads account. You're all set – you can now run ads.

Let's sum up

Promoting a channel even if you have a tight marketing budget is possible:
Spread the word about your channel across various platforms.
Create a cool and useful chatbot.
Buy ads on other theme-based channels or communities.
Use targeted ads on other platforms.
Run ads directly on Telegram Ads using third-party platforms.
Don't use fishy bots to boost your subscribers.
And last but not least, create unique quality content to capture the attention of your target audience. It will allow you to promote your community organically, by word of mouth.