For many people, Forex market is associated with big money and with a chance to improve their finances or to multiply considerably their invested assets.

This is what attracts lots of people, who mostly lack the relevant knowledge and experience though, which often results in them losing their money. Having encountered their first negative experience, such people shortly refuse from the unique opportunities of money making, and leave the market. But in Forex, just as in many other activities, success doesn't come right away. You are going to need some time to figure out how things work, and to earn the required experience and the trader's intuition, as they call it.

However, if you are not ready to wait and to waste your time, nerves and money, there are other opportunities, which are just as fascinating, and which allow making decent money without risking to lose your equity.

Many people don't know about the way to earn money through partnership programs, which have long become an indispensable constituent of development of many successful and famous companies. Affiliate marketing makes it possible to join a company's business and to get some of the company's income generated from the clients attracted.

AMarkets also offers you this opportunity, and the financial company is willing to share as much as 60% of its income with its partners who engage target clients.
How Much Can One Actually Make with the Partnership Program?
According to the company's statistics, on an average, one can earn about 10% of the client's deposit. To avoid being flimsy, why don't we consider the example of one of AMarkets' most successful and dynamic partners.
In just one day, a partner from the Middle East has earned $4653 for trading operations of just one client of his!
You must admit, that's impressive. Let's assume, a partner has several clients like that, and all of them generate similar profit for the partner.

This is a screen shot of the Partner Area. The client ID and registration data have been hidden in view of the company's privacy policy.

Perhaps, such things can only be possible in financial markets. This is the actual earning of the company's partner, and there's nothing exceptional and unique about it. This is caused by high profit margin of the business.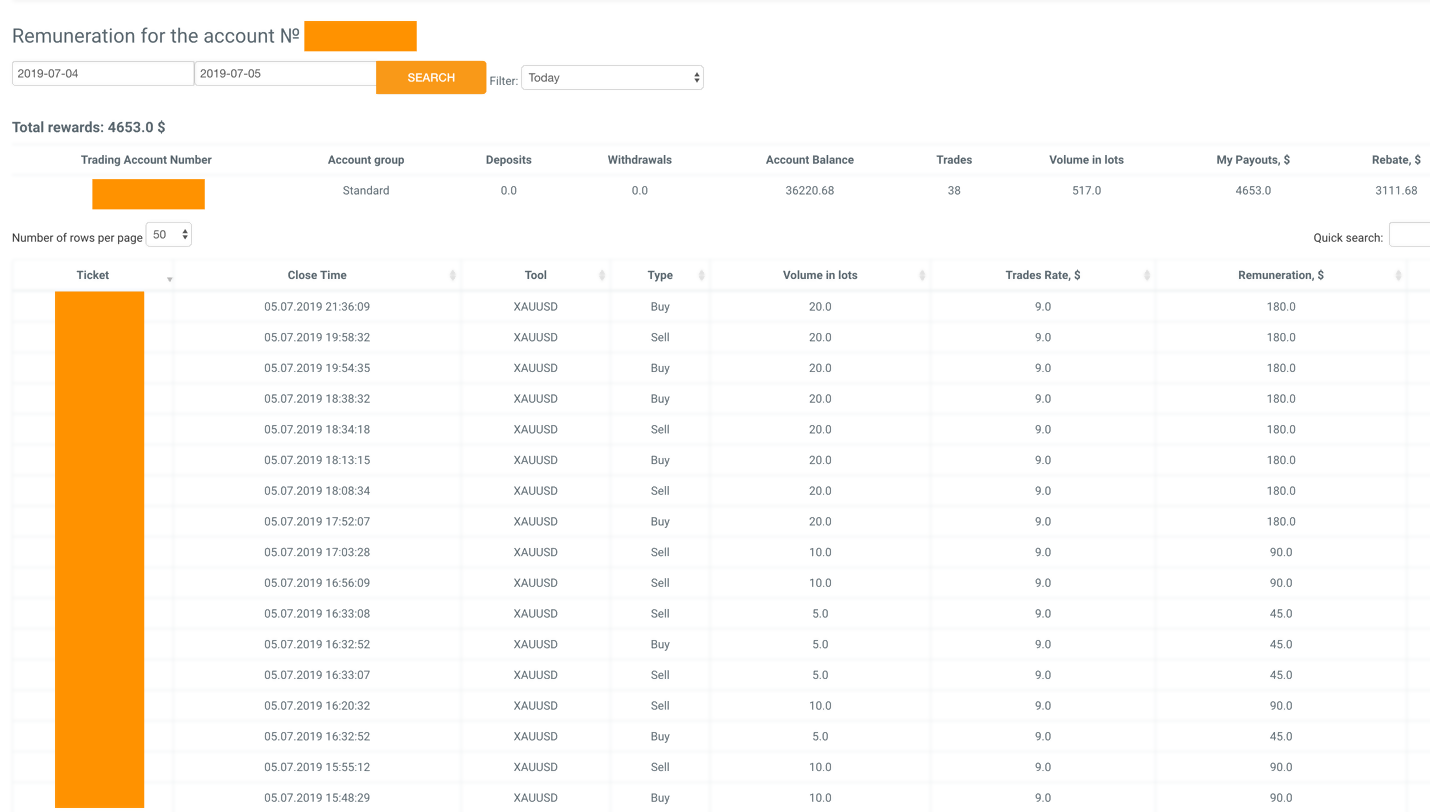 Breakdown of some of the client's trades which enabled the partner to receive such an amount of partner fee

As shown in the screen shot above, such high proceeds of the partner were caused by the client's high trading activity in XAU/USD (Gold). When the screen shot was made, the balance of the client's account was USD 36 220, as you can see. Thus, in just one day, the partner made nearly 13% of the client's deposit amount. We must certainly mention that this result definitely stands out from the average statistical data for all the company's partners, but this only confirms that anything is possible at Forex.
And you don't even have to invest your own funds!
How to Increase Your Clients' Trade Circulation and to Earn More?
A functional feature of AMarkets' Partner Area called "Partners Cashback" enables rebating part of the obtained partner fee onto accounts of the clients who contributed to it.

Thus, not only can a partner engage clients by providing them with trading conditions even more profitable than those from the company itself, but a partner can also motivate contacts from his/her database to increase their trade circulation which will eventually result in partner fee increase.

The partner mentioned here in this article opted to make use of this feature which resulted in significant increase of the client's turnover. As a result, the partner managed to increase his total income by at least 40%, provided that he was returning major part of the partner fee onto the client's trading account.

More details about the Partner Cashback program can be found here.

If you are not AMarkets' partner yet, but this offer sounded interesting, join us and we'll tell you how to start earning with us and how to achieve similar outstanding results.