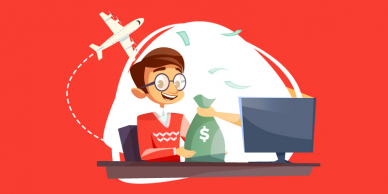 Today we will talk about how to create a Forex website from scratch, what services to use, what content to post and how to make money on your website. Ready? Then let's start! There are three ways to get your site: hire a specialist who will create a site from scratch, buy a ready-made site or make it yourself.
How to create a Forex website
First, let's talk about how any site works. A website is nothing more than a database of files located on a remote server (computer) serviced by specialists. Renting a server is called "hosting". A "constructor" containing templates and other elements is used to create site pages. It also provides access to the CMS content management system, where text and media content is published.
Today, there are a large number of similar designers on the market: some of them are free, others will have to be paid for. In addition, the constructors differ in the degree of complexity. Consider the most popular:
Wix – for beginner webmasters
Wix is simple and one of the most widely used web builders. Novice webmasters especially love it. The constructor offers many free features, a user-friendly interface, and flexible settings. The monthly cost of the cheapest tariff plan is 123 rubles, and the most expensive – is 715 rubles.
uCoz – for advanced users
uCoz can be called an old-timer among designers. You can create an online store, blog, landing page, and multi-page site with it. The constructor interface is quite complex, so it will take some time to learn it. The monthly rate is $4.79, and for this price, the user receives several bonuses and premium support.
Ucraft – for global projects
This builder is quite simple and boasts a wide range of SEO tools. It makes it easy to create a multilingual site, so Ucraft is a good choice if you plan to work with a wide multilingual audience from different countries. The cost of the tariff plan varies from 670 to 2600 rubles per month. In addition, you can take advantage of a two-week trial period.
Tilda – for one-page sites
Tilda is an excellent solution for creating trendy landing pages. The constructor offers a wide variety of ready-made blocks and templates. The disadvantage of Tilda is the difficulty of creating multi-page sites. The cost of the tariff plan varies from 750 to 1250 rubles per month.
When you choose a constructor, you should focus on the subject of the future site and its features. If we are talking about a one-page site, then Tilda is suitable, and for complex multi-page sites, it is better to use other constructors.
Can you create a Forex website for free?
Many builders offer free versions, although they have limitations that can prevent the site from working correctly. It is better to have paid versions to access all the functions in this regard.
How to choose hosting for a Forex website
Hosting
Hosting is the space rental for storing site data on a third-party server. Your website data, including databases, files, and email, must be stored somewhere. For the regular operation of the site, you must always have access to them, and data security is guaranteed.
There are a large number of hosting providers on the market. However, we recommend choosing a large, well-known provider that offers average prices for their services—no need to save on hosting.
If you want to attract traffic to the site for its stable operation, you need to enlist the support of a trusted hoster offering paid services. The free hosting option can be considered for small sites or simple personal web pages.
Main types of hosting
Shared hosting
It is the most popular and affordable hosting option. In this case, a single server is used to store data for small sites. The main problem with shared hosting is sharing an IP address with other webmasters. If one of the sites suffers from a DDOS attack or the Federal Service blocks it for Supervision of Communications, Information Technology, and Mass Communications, all websites will suffer.
VPS
The abbreviation VPS stands for "Virtual Private Server". As your site grows in content and traffic, it makes sense to switch to VPS hosting. Such hosting involves renting a part of the server, allowing you to install any operating system and software. It is a more expensive but more convenient option than shared hosting.
Dedicated Hosting
This type of hosting involves storing data on a separate server that can be managed independently. It is suitable for large sites: large online stores or gaming sites.
Cloud hosting
Such hosting appeared recently,and it is rapidly gaining popularity. Clients share servers connected to the system. In case of failures on one server, the rest continue to work, which ensures the entire functioning of the site.
For sites with high traffic, VPS or cloud hosting is better. For one-page sites, you can use shared hosting. Dedicated hosting is usually not needed for arbitration projects.
What to look for when choosing a hosting for Forex website?
Server load time
You should track how the site's performance changes during peak hours (if the site already has traffic) or take advantage of the feedback from other users. In this case, the hoster may place your data on another server: he may have many data and differ in different performance.
Channel overload
This indicator can be checked using ping services such as http://host-tracker.com/.
How does the support service work?
It is essential to make sure that the support service is working effectively. In the first weeks, contact the service at different times – even at night and on weekends – to understand how quickly and efficiently they answer your questions. Don't wait for a problem to come.
How to choose and buy a domain for Forex website?
A domain name influences user perception, site ranking, and reputation. It is difficult to change the selected domain afterward, so it is better to take a responsible approach to choose a domain name right away.
How to choose a domain name?
One of the main criteria is that the domain name matches the site's theme. It is not enough that the name is resonant or you like it. For medium-sized areas, you can use keywords, and if the site represents a brand, then it is best to use the brand name.
How to choose a domain zone?
The ranking of a website in search engines depends on its domain name. A domain zone is the letters that appear after the dot in a domain name URL. For Russian users, a website named traffic.com will appear lower in search results than a website called traffic.ru.
Choosing a domain zone, think about where the primary traffic will come from. If we are talking about users from the CIS countries, select the .ru domain zone. Sometimes, you can consider a thematic domain zone when it comes to different geolocations and a thematic site. So for technology sites, the .io domain zone is often used.
How to buy a domain?
We recommend choosing reliable, large registrar sites like nic.ru, go daddy, or domain.com.
After buying a domain, you need to set up DNS and email, add the site to search engines and set up counters, and set up automatic payment for the domain.
Filling the Forex site: what information to post? Sitetypes
So, you have chosen hosting and registered a domain. It is where the fun begins: working with content. Let's talk about what content you can fill your Forex site with and what purposes.
Forex Blog
A blog is a platform for publishing the author's expert opinion, educational and other posts. A high-quality blog on a relevant topic, where the author correctly highlights essential points and follows trends, quickly attracts significant organic traffic.
An example is the blog of the Serpstat SEO analytics service. Users turn to the site with questions about SEO optimization, find answers, and become customers. To attract many users to such sites, you need to fill them with large volumes of high-quality content.
Forex ratings and reviews
These websites offer all sorts of reviews and lists of top services. Intelligent optimization allows you to attract significant traffic of users looking for reviews about certain services through search engines. An example of such a Forex site is https://brokers.ru/.
Such sites may also collect user feedback, which helps to improve the quality and quantity of content.
One-page Forex sites
This site contains only one page. Usually, they are created for a specific product for sale. Therefore, they have a particular structure. They encourage the user to take action: buy, subscribe, and so on.
Tiered websites
These sites include features of all the types discussed above.
The productivity of the site depends on what content is posted on it. It should not be exclusively promotional but be helpful for users in terms of topics and suitable for placed promotions on the site. For example, you can participate in the Forex affiliate program of a broker like AMarkets. In this case, it should be filled with relevant content, such as analytical reviews, ratings of trading strategies for RAMM accounts, company reviews, and educational materials on trading, investing, and finance.
Forex website promotion: advertising and SEO
Optimizing following the requests of search engines and using paid promotion methods is essential for increasing the efficiency and traffic of the site.Previously, we have already talked about SEO optimization and promotion using contextual advertising and content marketing.
We should not forget about free promotion methods:
Social media accounts
Publication of press releases in the media
Adding the site to all available directories and ratings
Language localization of text: how to attract users from other geolocations
If you want to attract traffic from abroad, you need to take language localization seriously. There are several options for this:
Machine translation
By applying machine translation, you can quickly adapt your pages to an audience that speaks a different language. Google Translate will promptly translate your landing page. Nevertheless, the translation will be of poor quality, and such content is unlikely to attract traffic.
At the same time, machine translation should not be discounted. You can use it quickly and for free when you need to test a landing page for new geolocation.
Freelance services
Seeking high-quality translation, you can turn to the services of freelancers at numerous freelance sites. If you are lucky, you will find a qualified and hardworking translator who will help you for a reasonable fee. The problem is that you, most likely, will not be able to evaluate the quality of the translation. There is also a danger that the freelancer will let you down with the deadlines.
Services of professional translators
If the quality of the translation directly affects your conversions, then contact professional translators. There are many sites on the network where professional translators and native speakers offer their services. In such circumstances, the quality of the translation will be guaranteed and high, but it will also be expensive.
Choose a translation method depending on how vital its quality is to you. For starters, you can try the cheapest option. Sometimes you can save on language localization without losing conversions.
Creating and promoting a high-quality Forex website requires a significant amount of money and time, but it's worth it. A quality site will quickly start generating a steady income. In the future, you will be able to create a network of satellite sites (aka Provate Blogs Network or PBN), transferring traffic from one platform to another. The main thing is to start!