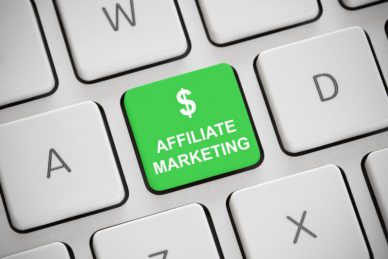 The affiliate marketing industry has been around for a long time, and it has gained even more popularity over the past few years. Affiliate marketing opens up great opportunities to generate a stable income in addition to trading. If you're still new to it, it's time to give you a headstart. This article will shed some light on the affiliate marketing landscape and one of its most lucrative niches – the forex affiliate niche.
What is a Forex affiliate marketing?
Affiliate marketing in general is a marketing model in which a company pays a person (an affiliate) to advertise its products and services in order to generate sales. If your promotion or referral results in a purchase by the person you refer, you receive a commission. Forex affiliate marketing involves sharing links with Forex traders and investors. When a person clicks on the link or performs other desirable actions (it could be a sign-up, a trading terminal or trading app install, a lead form submission, or a financial product purchase), you get an affiliate reward.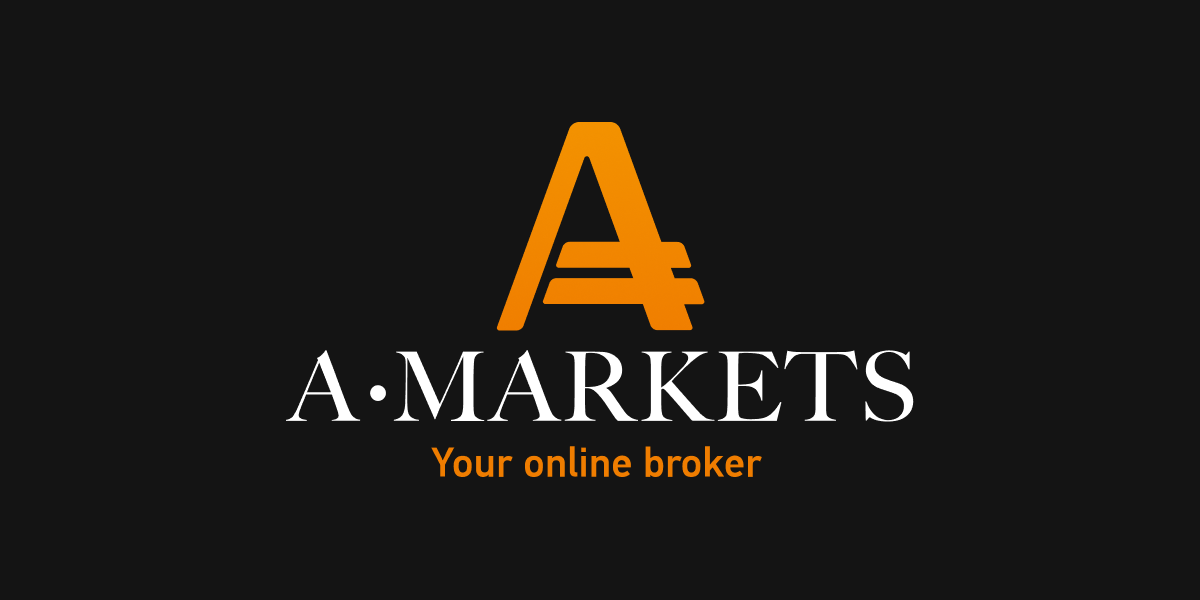 What is a Forex affiliate?
A forex affiliate (also referred to as a partner) is a term used in the context of the Forex market. A forex affiliate is someone who earns in the financial market by promoting a specific Forex broker and its services and directing traffic and traders to the broker's website or a trading platform. The process is relatively simple. A partner shares a unique affiliate link on their social media profile, blog or website. Whenever a potential client follows the referral link and registers an account with this broker, a forex affiliate is paid a commission fee depending on the chosen affiliate business model. This person may not necessarily be trading themselves, although there are many independent Forex traders who make an extra income by joining forex affiliate programs.
Is Forex a good affiliate niche?
Day trading has become very popular worldwide, and the forex market is the largest, most liquid, and most lucrative market there is. With so many market participants in the game, forex affiliate marketing is a highly profitable niche.
And it's no surprise. Forex partnership programs can be rightfully considered one of the best and fastest ways to make good money in the trading industry. "How did Forex affiliate programs become so popular?" – you may wonder. Because they offer freedom and unlimited earning potential. You don't need to go to the office or sit in front of the computer screen for hours to make good money. While some Forex partners consider affiliate programs as a good way to make extra cash, for others, it is a full-fledged business that makes up most of their earnings.
The forex affiliate payment structures vary from broker to broker. Most partners receive their commission based on the client's net deposit or the trading volume a referred client generates. It's worth mentioning that the term "forex affiliate program" is an all-encompassing term used to cover all types of affiliate partnerships. Let's take a look at the types of Forex affiliate programs and the types of commissions a forex affiliate marketer can earn.
Types of Forex Trading Affiliate Programs
By participating in affiliate programs offered by forex brokers, affiliates can receive their commission and profit under certain conditions specified by the broker. There are several types of broker affiliate programs that offer different reward schemes, commonly referred to as Forex affiliate commission types.
These payment structures may vary from broker to broker, but an overall tendency is that they work on a CPL, CPA and Revenue share basis:
CPA
CPA stands for Cost Per Action (also referred to as cost per acquisition). The "action" in the case of forex trading is when a referral makes the minimum required deposit and starts trading.
CPL
CPL stands for Cost Per Lead. CPL commission is a once-off payment for a qualified registration, i.e. when a referred client provides their contact details and opens an account with the broker. The lead, in this case, may not necessarily fund his account, but the partner still gets a commission for the account registration. Naturally, the CPL commission rate is much lower than the CPA scheme.
Revenue share
Revenue share, as the name implies, entails a commission that is paid to the affiliate based on the revenue generated by the company as a result of the referred client's trading activity. Unlike the CPA and CPL remuneration models, which imply one-time payouts, the revenue share scheme is for the client's lifetime, i.e., for as long as the client trades with the broker and generates revenue, the partner will be receiving his affiliate reward.
How to become a Forex affiliate?
If you think of embarking on the path of Forex affiliate marketing and joining the affiliate program, you need to find a trustworthy broker to partner with first.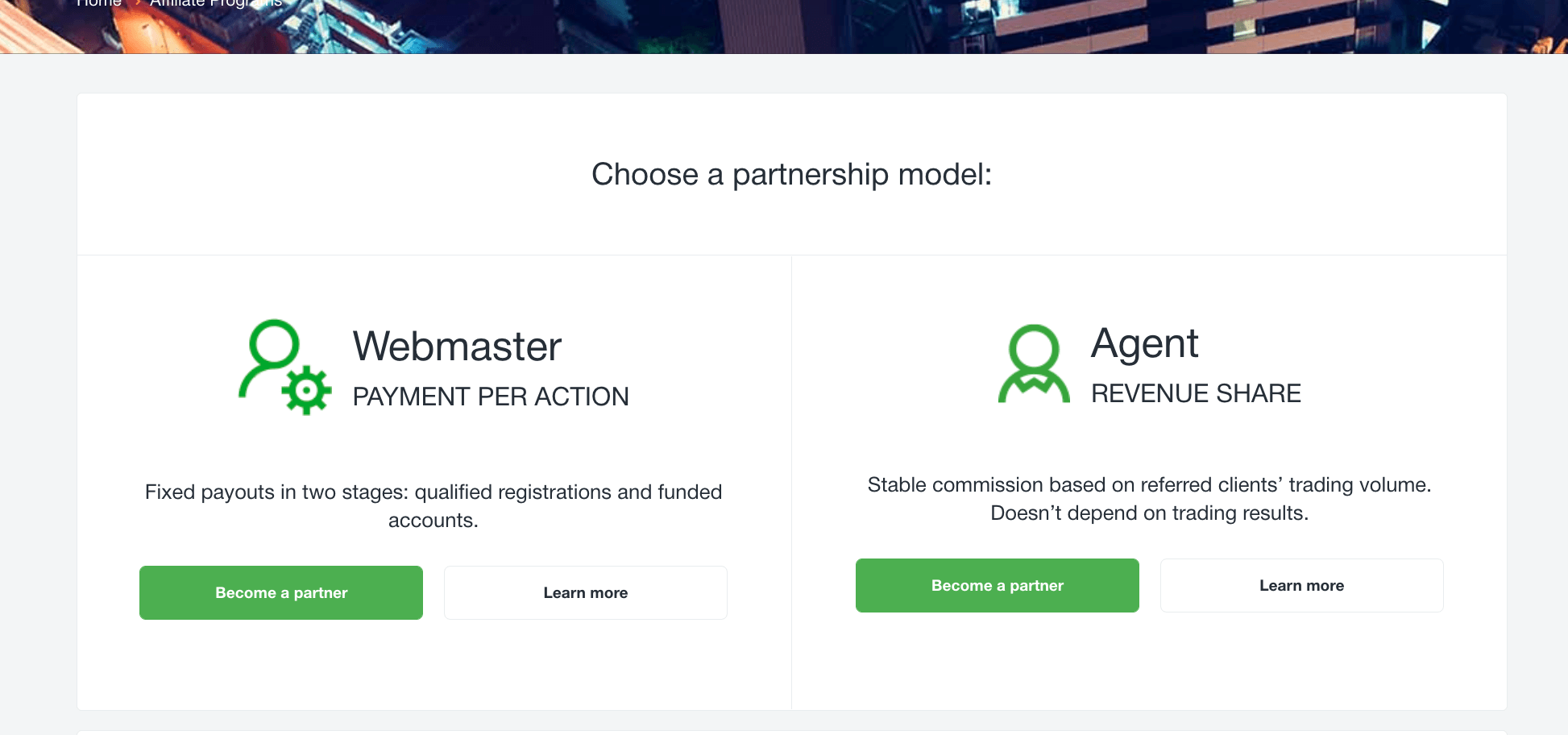 When you see a Forex broker inviting you to join its broker partnership program with attractive commission rates and perks, don't get excited too fast. There are a few more things to consider when choosing the right broker.
License and regulation
Without a doubt, license and regulation are of utmost importance. Your broker must have a license to be able to offer brokerage services. Also, it has to be a member of an independent regulatory organization. If your broker's activity is not regulated, you can never be sure that your funds are secure. The purpose of an independent regulator is to ensure that any disputes and trade claims that may arise between traders and the brokers are resolved in a quick, unbiased manner. So, to be sure that your interests are protected and your money is secure, pick a regulated Forex broker.
Deposit and withdrawal options
Speedy, hassle-free, and smooth withdrawals and deposits are also important criteria. A trustworthy broker should offer a wide selection of payment options. These can include bank cards, wire transfers, and various e-payment systems. It will be a great advantage if your broker doesn't charge a deposit and withdrawal commission. This way, you'll be getting all of your profit without paying additional fees.
High-quality products and services
The quality of the broker's services, its trading platform, favorable trading conditions (low commissions, narrow spreads, speedy order execution), a wide variety of trading instruments, and powerful trading tools at traders' disposal is also crucial. It will help you attract more prospective clients.
Besides ensuring that you will be getting high remuneration rates, it's also important to check if your broker offers high-quality support. It's perfect to partner with a broker that has round-the-clock customer support. Also, make sure that the broker provides its partners with various promotional materials that are frequently updated and an affiliate manager who can give you valuable recommendations and help you attract referrals efficiently.
To save you the trouble of browsing through dozens of brokers, we recommend checking out the AMarkets online broker first.

AMarkets is an award-winning global forex and CFD broker providing top-quality brokerage services to thousands of clients and partners worldwide since 2007.

AMarkets is a licensed broker registered by the Financial Services Authority (FSA) (license number 22567 BC 2015). This broker is regulated by the Financial Commission, an independent dispute resolution organization tailored to resolve finance-related disputes in the financial markets. The quality of order execution at AMarkets is assessed monthly by an independent service Verify My Trade (VMT).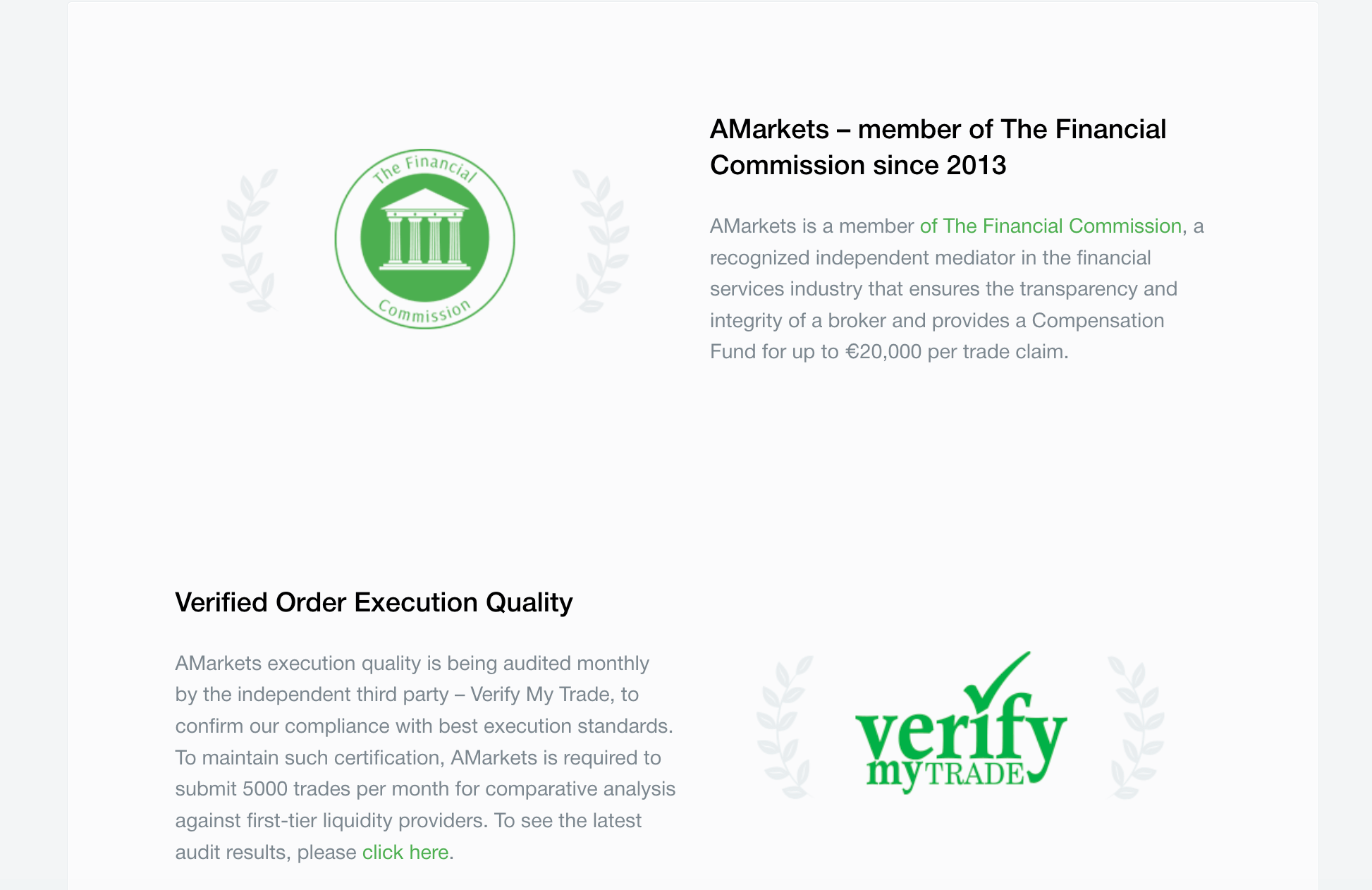 The best forex affiliate program 2022
AMarkets has built a global affiliate network with thousands of partners worldwide, who have already attracted hundreds of thousands of traders and investors. For the whole period of the network's existence, our partners received more than $30,000,000 in cash and hundreds of gifts from the company for their loyalty and effective work. AMarkets offers two types of lucrative affiliate programs – Agent (Revenue Share) and Webmaster (CPA+CPL). Now, let's take a closer look at these cooperation models and see how much you can earn as a partner.
"Webmaster" affiliate program
The Webmaster affiliate program entails payments under two earning schemes at once – Forex СPL and Forex CPA. It allows you to receive high once-off payments in two stages: first for a confirmed registration and then for a funded account (converting a lead into a client who tops up their account and starts trading with the broker).
How it works
A partner directs traffic to the AMarkets website.
Once the registration is confirmed, the broker pays for each qualified account registration.
After the client funds his account and starts trading, the partner receives the second, larger commission, depending on the size of the client's deposit.
To best-performing affiliates who refer many target clients, AMarkets offers extra incentive payments.
The Webmaster forex affiliate program is best suited for bloggers, website owners, online marketing professionals and social media influencers. In other words, if you have already established your online presence and are considered a reliable source of information on all matters related to trading, this affiliate model can be a great way to increase your revenue stream.
How much can you earn as a forex affiliate with the CPA model?
Experienced lead generators earn on average 2,000 USD per month. Here's an example of how much you can earn from 10 clients:
Say you referred 10 active clients, and each of them deposited at least $1,000 into their accounts. After a 10-day moderation period with the "Pro" package of remuneration rates, you will receive $10 for each registered and verified account (Forex CPL) and $150 per active client (Forex affiliate CPA). So you will earn a $1,600 partner reward.
This revenue model is variable. If your clients decide to add more funds to their accounts during the moderation period, your affiliate reward will be higher. All in all, you can earn up to $5,100 since the maximum remuneration rate for each account is $500!
New Webmasters who have just joined AMarkets can get $150 if they do a review about AMarkets and post it on their resources. It's a great offer that allows you to earn your first money right at the start.
Also, during your first month of cooperation, AMarkets will give you the highest remuneration rate that comes with the Pro package. You can keep it for the whole period of your cooperation with AMarkets if you steadily attract 10 or more active clients per month.
On top of that, AMarkets provides detailed and transparent statistics and offers a wide range of marketing tools (banners, landing pages, etc.), as well as a secure system to register newly attracted clients in the Partner Area and assign them to the affiliate group.
"Agent" trading affiliate program
This classic forex broker affiliate program will be suitable for entrepreneurs and individual consultants who want to start their own business. This partnership program is based on a revenue share model. Affiliates can earn up to 60% of the company's revenue, generating a steady income from the referred clients' trading turnover. All you need to do is invite traders and investors to AMarkets and get a stable affiliate commission from their trading activity, regardless of their trading success. AMarkets pays up to $15 per standard lot traded by the attracted clients, which is some of the highest Forex affiliate commission rates in the industry. On average, agents earn 5-10% of each client's deposit every month.
How to make money from the "Agent" forex broker affiliate program
Refer traders and investors to AMarkets and get a stable income from their trading activity.
Example:

Say, you attracted 10 clients who deposited $30,000 in total. Normally, such an amount of money can generate 100 lots every month.

With the highest possible remuneration rate, you will be getting $15 per 1 standard lot traded by clients with Fixed accounts, so your total monthly revenue will amount to $4,500. Another great advantage of this affiliate model is that it is multi-tiered. It means that you can build your own partner network and earn passive income from second and third tier partners.

Therefore, you can generate an infinite potential income stream. There's no cap on commission, so it's entirely up to you how much you decide to earn with this revenue sharing model.
How to promote your forex affiliate business
Once you choose an affiliate program to join and become a forex affiliate, it's time to spread the word around and start attracting clients. Try using all the means and communication channels at your disposal, including your social media accounts. Your objective here is to effectively promote the offer and acquire as much traffic as possible.
The surest way to start earning is to add your affiliate links to a theme-based website or subject-related forum. The most effective format is posting high-quality and unique content and making sure that it matches the key search queries. For example, you take a website dedicated to Forex trading and add your article about AMarkets, providing the description of the company, its main services, and key advantages. The content must fully correspond to the search keywords used by the visitors and their queries so that they won't go to another website. After reading the review, the user should be encouraged to register with AMarkets, and start trading, so don't forget about the call to action techniques and references to special offers and promotions to ensure your website visitors are clicking and converting.
Another easy way to make good money is to create your own Forex affiliate website. There is no need to develop a huge platform with hundreds of articles. Simply Google the most frequent queries and keywords relating to the Forex industry. You can create a small resource with a dozen of subject-related articles to target the main search queries. Such resources can drive rather high, valuable traffic and have high conversion rates. Usually, the broker you partner up with will provide you with various promotion materials, such as banners, buttons, and headers to assist your efforts for effective advertising through your own online channels.
You can also use a doorway page. Doorway pages are portals that lead visitors to the promoted source through redirects. They have a high keyword density, which allows you to gain a higher search ranking and hence more visitors.
Speaking of ways of getting traffic, it's worth mentioning traffic arbitrage too. Forex traffic arbitrage is a business model in which you buy traffic and redistribute it to monetize it using the Forex CPA affiliate model, for example.
Summing up

As you can see, the affiliate business is hugely profitable. Both webmasters and agents can generate higher profit margins compared to any other industry. Plus, this type of Forex affiliate earnings is available to everyone regardless of their age, occupation and experience in the financial markets.

If chosen wisely and dealt with smartly, a forex affiliate program could well become a very lucrative profit-making opportunity to seize. That being said, success is not guaranteed unless you put enough time and effort into educating yourself. Our advice is - be patient, persistent, and creative. Constantly seek new ways to communicate the referral message to your existing audience while increasing your visibility and reach towards new audiences as well. Do your research and browse through different affiliate marketing strategies and ways to attract customers. You can find valuable sources and educational materials on the web. They will help you determine the most convenient and effective approach that suits you best. With a well-planned affiliate marketing strategy and some effort, you can reap substantial benefits as a forex affiliate.