Dear partners,
We recently hit our biggest milestone yet of serving one million clients! Our one millionth client was presented with a special appreciation award with a gold AMarkets brand symbol. We congratulate our client and hope that this award becomes his trading talisman and brings him success, luck and many profitable trades!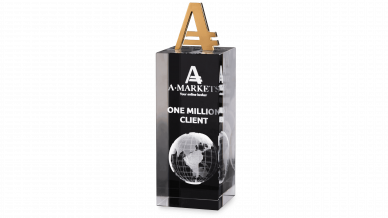 We always do our best to provide our clients and partners with cutting-edge technologies and convenient trading solutions.
Reaching our one millionth client is a major milestone, and we won't rest on our laurels. Many more achievements are ahead of us. We've come a long way, and we can proudly say that AMarkets has grown into a leading online brokerage with an impeccable reputation, which always puts its clients' interests first, exceeding their expectations and providing excellent service. One million clients is just the beginning!
We thank our clients for their trust and loyalty, and we're thrilled to share our future successes with you!